Charter News
Charter College and Career Prep Thanksgiving
El Dorado County Office of Education (EDCOE) employees were incredibly thankful on Friday, November 11th, to be treated to a Thanksgiving feast dished-up by the students at Charter College & Career Prep (CCP).
The annual event, in which CCP culinary students work with the EDCOE kitchen staff to prepare a Thanksgiving buffet, has occurred before Thanksgiving recess for over twenty years. This unifying meal provides both a culture of appreciation for the staff and a certainty that students will enjoy a traditional Thanksgiving meal.
"This is a fun, hands-on event," said CCP principal Fred Mier. "While culinary arts students experience the real-world difficulty of helping cook for a large event, they also get to see the outcome of their hard work through the satisfied faces of everyone enjoying the meal."
This is a joint project between the EDCOE kitchen staff and maintenance departments, who respectively prepare the food and set up the dining area; culinary arts students, who helped prepare the meal; and student council, who hosted and served the meal to over 200 students and staff.
"Participating in the Thanksgiving feast is really great. It gives everyone a chance to get to know each other," stated Angelica Meza-Sandoval, Student Body Secretary, between serving scoops of mashed potatoes. "The events that the student council put on are amazing. They've shown me that being involved in school is so much more rewarding than just being in school."
Culinary Arts and the Associated Student Body programs at Charter College & Career Prep are just two examples of the many ways Charter Alternative Programs help guide students toward a successful transition into higher education and the workforce. Additional information about Charter College & Career Prep may be found at http://charter.edcoe.orgor by calling (530) 295-2259.
Tenth-grade student, Bryan Jimenez sweetens pumpkin pie with a little whipped cream
Charter Home School Academy Students become Entrepreneurs
The Charter Home Study Academy (CHSA) multipurpose room was filled with eager customers traveling from booth to booth and purchasing homemade creations from student business owners. Nov. 16 was CHSA's annual Craft Faire where transitional kindergarten through eighth-grade students sold holiday decorations, hand-made toys, international cuisine, and more.
The event, now celebrating its 19th year, exemplifies CHSA's mission, which emphasizes empowering students by building and applying foundational skills in ways that make learning engaging, relevant, and fun.
"Students gain valuable experience in economics and money management," noted school administrator Dianne Deitchman. "In order to participate, students must submit a business plan that outlines their products, prices, and marketing strategy. Students were encouraged to adapt to the challenges of running their own business, and they did so brilliantly!"
After selling their wares, vendors visited classmates' booths to barter and purchase goods. Students also received prizes in categories such as Master Entrepreneurs, Best Marketing, Best Display and Most Innovative Products.
Winners:
1st Place: Master Entrepreneur - Riley Smith, 5th grade
2nd Place: Master Entrepreneur - Jayden Lemming, 4th grade
3rd Place: Master Entrepreneur - Christian Vos, 6th grade
Best Display: Katy and Michael Tudor, 4th & 8th grade
Best Marketing: Olivia Kaihe, 7th grade
Most Innovative Product: Hunter Tranum, 6th grade
Best Slogan: Ryan Bowen, 6th grade
Best Logo: Levi Lemming, 6th grade
Riley Smith, winner of the master entrepreneur award with his storefront, Riley's Rusty Stuff made an impact on the judges with his handmade business cards; his slogan, "Turning Trash Into Treasure"; and his idea to use reclaimed materials to make products with history, character, and style. Smith also drew people to his booth with a display that included live chickens. "I started my plan by seeing what my sister and I had to work with," noted Riley. "We had a lot of what some people would consider junk, so we took it and turned it into something different. I had a lot of fun, learned a lot, and want to continue participating in the future."
The CHSA program serves families who choose to homeschool their children. Students have the option to attend classes in core content areas and continue their academics at home, or do their studies entirely at home. Lessons at home are guided by parents and supported by credentialed teachers.
More information about the Charter Home Study Academy program can be found at chsa.edcoe.org or by calling (530) 622-6984.
Riley Smith, Best Entrepreneur Winner, selling his wares
Olivia Kaihe, Best Marketing Winner, displaying her themed cupcakes
Chloe Messer, seventh grade, serving traditional Hungarian cuisine
Jail Inmate Receives Diploma
El Dorado County Office of Education (EDCOE) Charter Adult Education programs offer instructional programs that touch adults wherever they are in their education or life circumstances. The wide range of educational options is especially beneficial for adult learners who have been confronted with life challenges. Raymond Martin, a current inmate of Placerville Jail, attends classes within the jail and recently celebrated a significant step in his rehabilitation by earning his high school diploma.
Martin credits his accomplishment to the staff who have offered him support, including instructor Caroline Earl and Officer Robert Fransen, who checked in with Martin on a weekly basis and encouraged him to improve his circumstances. "Ms. Earl's compassion for all of the inmates, and the opportunities the officers allowed me as part of this program, motivated me," announced Martin during his recognition ceremony.
Martin is one of the 60 students currently enrolled in the Adult Education program at the Placerville Jail. Approximately 20 percent of the inmate population receive individualized instruction to earn a high school diploma or a General Education Development (GED) certificate. Short-term Career Technical Education Certification and college-level classes are also available through the use of online courses.
In addition to serving both the South Lake Tahoe and Placerville Jails, EDCOE's Charter Adult Education Program provides educational opportunities at various sites throughout the County, including the Community Corrections Center, and English as a Second Language programs.
Once enrolled in Charter's Adult Education programs, students are able to pursue an education tailored to meet their unique needs. "We have a very dedicated staff who sincerely care about helping the students reach their goals," noted Principal Gary Sutherland. "The personal support and the caring partnerships that are forged in the community are a major reason for the success we see across our programs."
A high school diploma is not the end of Martin's time with Charter Adult Education. He has laid out for himself a series of parenting classes, college courses, and a path to learn a trade to improve his ability to start a career after his release. "I don't want to live the life I've been living. I want to get a job, go to college, and be a better parent. As long as you set your mind to it, you can do it," Martin encouraged his fellow adult learners.
More information about Charter's Adult Education programs can be found at http://aded.edcoe.org, or (530) 295-2291.
Left to right: David Publicover, Officer Fransen, Raymond Martin, Caroline Earl, and Gary Sutherland celebrate Martin earning his high school diploma.
Charter College & Career Prep Provides New Opportunities for Students
The newly christened Charter College & Career Prep has started this school year with a myriad of new services that emphasize early college participation and success, as well as a curriculum rich with hands-on learning experiences. The program, which is located at the El Dorado County Office of Education in Placerville, merged two charter programs to create greater opportunities for students.
"What makes this new school truly remarkable is that we now have so many engaging programs that help students succeed in their adult lives, regardless of whether their plans are to go to college or straight into the workforce," noted Principal Fred Mier. "We are proud of our new Advanced Education Program as well as the many applied learning courses we can now offer our students in our state-of-the-art school facility."
The Advanced Education Program allows the Charter students to take community college courses concurrently during high school for free while earning both college and high school credits. Charter College & Career Prep and the Folsom Lake College El Dorado Center (conveniently located next door) work together to support students in their efforts through planning and meeting with each student. A Folsom Lake College Outreach Specialist meets with students twice a month to help streamline college enrollment and to ensure students have a positive and successful first experience at FLC.
"This school honestly gets better every year," senior Dakoda Carver reflected, "In a normal school, no one knows anyone and you just go to get it done. Here, every teacher knows every student and can help them customize their high school experience to their future goals."
The school also engages students with hands-on classes such as Culinary Arts, Maker Space, Robotics, and an Outdoor Wilderness Survival Skills course. This spring, Charter will also roll out a drone piloting and operator's training course. This cutting-edge program will allow students to become trained and certified in the fastest-growing segment of the aviation industry. "A career in the exciting and rewarding field of unmanned aviation can earn a six-figure salary for highly-skilled pilots," noted Doug Booker, a teacher at the school. "Allowing these students to begin their training now gives them an enormous advantage in beginning their careers."
The combination of the early college program and applied learning opportunities have proven very popular with the students as well.
"Culinary Arts is great because it is a life skill and prepares us for adulthood. This is an opportunity that most charters don't have. Here, we have good food and good people," remarked student Noelle Green.
Pictured above: Noelle Green displays her ingredients during a breakfast preparation in Culinary Arts class.
Pictured above: Bryan Jimenez, Elias Brown, Alexander Camancho practice mincing in Culinary Arts class.
The Advanced Education and applied learning programs at Charter College & Career Prep are examples of the many ways Charter Alternative Programs help guide students toward a successful transition into higher education and the workforce. Additional information about Charter College & Career Prep may be found at http://charter.edcoe.org/ or by calling (530) 295-2259.
Charter Students Benefit from New Language Immersion Program
El Dorado County Office of Education Charter students are benefiting from a new Japanese language program that features unique learning and exchange opportunities with high school students in Japan, including live video sessions. The popular new program, which is offered at Charter Connections Academy and Charter University Prep, engages students with its innovative approach. Students practice their emerging skills in live, face-to-face meetings with Japanese students. The program is typical of both schools' approach to learning, which emphasizes developing skills and critical thinking through real-world use and application. Both programs utilize 21st Century learning platforms and strategies to help ensure students are fully prepared for college and career success.
The Charter students practice their emerging Japanese language abilities with students of Veda Nishi School in Nagano, Japan, who are also using the opportunity to expand their knowledge in English. "I really enjoyed meeting students from Japan!" expressed senior Jalen Bush. "I've learned a little about the students, and we aren't as different as I thought. I was super nervous about our first cultural exchange, but seeing them try just as hard to speak English, as we tried to speak Japanese, helped a lot. I realized they're just kids like we are."
Joe Reichmann, Charter's Japanese teacher notes, "Through this activity students are learning how to speak Japanese in a fun and exciting way. Not only is language being taught, but our students are able to experience a beautiful culture. It's good to see students from different parts of the world enjoy communicating.
During their first video, the Charter students began their conversation by introducing themselves and the community of El Dorado County. In a later session, Veda Nishi students quizzed Charter students on the Japanese names of sports, animals, and fruit. In return, Charter students taught their Japanese peers words in English.
Charter Connections Academy and Charter University Prep are committed to providing meaningful direction, academic support, and counseling to help ensure students successfully transition to their next phase in life. The programs use a college-like instructional model in which students attend classes two days a week and practice independently the rest of the week. More information about Charter Connections Academy and Charter University Prep can be found at the Charter Alternative Programs' website atcharter.edcoe.org or by calling (530) 622-7130.
Above: Senior Jalen Bush discusses common interests with a student in Nagano, Japan.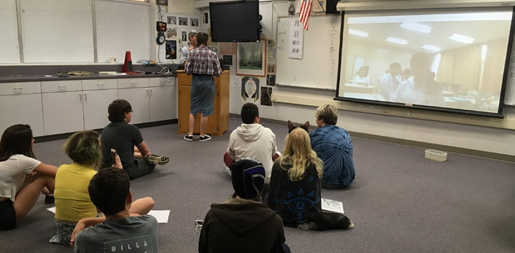 Above: Students wait their turn to practice identifying fruit and animals in Japanese.