Charter News
Proud Adult Students Achieve their High School Diplomas
Twenty-four adult graduates received their diplomas at one of the most inspirational ceremonies in El Dorado County on Tuesday, May 31. The El Dorado County Office of Education (EDCOE) offers support and services to students of all ages, and the Adult Education Programs allow individuals to complete a variety of educational milestones that otherwise may have seemed out of reach. Principal Gary Sutherland oversees the Adult Education Programs and gave these words of encouragement, "We acknowledge you for a variety of reasons as you have conquered trials and tribulations to arrive at this point of success. I commend all of you and want to encourage you to give back and lend a hand to those around you. May today be the beginning of a new journey."
Teacher Vicky Peoples also addressed the graduates and stated, "This program is so much different than high school. Some of you have jobs, major responsibilities, spouses, and children. If you are parents, you are also teachers – you are both students and educators."
Heather Hawkins was joined by her proud family and gave a speech to her classmates, "Because of this program, I can do whatever I want to do and be whoever I want to be. I did this because I want to be a good role model for my children."
Student Robert Diller might have been a self-proclaimed nervous wreck, but he delivered his speech like a pro. "I want to thank my family because this would not have happened without their support. Today is a beautiful day!"
Along with the adult diploma program, Adult Education Programs offer GED preparation and testing, adult basic education skills, English as a second language, career development, computer literacy, test preparation, concurrent high school classes, and more. Classes are offered year-round in various formats such as the traditional classroom setting and distance learning. Recently celebrating its 10-year anniversary, the program continues to expand and grow to meet the needs of the County. The program provides free-of-charge classes across the County to any person 18 years of age or older. For more information about the program, visit http://aded.edcoe.org/
Principal Gary Sutherland, the Adult Education Class of 2016, and teacher Vicky Peoples gather for a beautiful evening of celebration and thanks. Congratulations Graduates!
Student Heather Hawkins gives a passionate speech about how completing this program has opened a new world of opportunity and promise.
Charter Career Prep Students Learn About Life
Charter Career Prep (CCP) students recently completed an innovative project that strengthened students' science, research, and critical thinking skills by gathering and testing emu eggs for viability. The engaging, fun project is typical of the program, which emphasizes making learning relevant through hands-on projects and vocational opportunities.
Students monitored the weekly progress by measuring the weight of four eggs until they hatched. Of the four eggs, one emu successfully hatched, and subsequently attended class every day for two weeks. Students continued to monitor its growth and weigh it weekly as it grew quickly, noting its first milestones: first standing, able to walk without falling, able to run, as it developed. At CCP this type of project and thinking prepares students to successfully transition to career or college opportunities as part of the school's mission.
"Growing the emu and watching the egg hatch was awesome," Jordyn Todtenbier, 11th grade, described the experience. "I learned we sometimes have to be very patient with anything in life."
Charter Career Prep, which is located in the town of El Dorado, works to prepare students to be college and career ready through an engaging, rigorous curriculum. Our small school environment supports skills that will benefit students throughout their lives. For more information about Charter Career Prep, visit our website website at ccp.edcoe.org or by calling (530) 621-2579.
Charter CARE Programs Embrace TEACH
Charter CARE Program students TEACH their way to a healthier lifestyle. The TEACH program is sponsored through a grant by the Center for Violence-Free Relationships in Placerville. Students learn to express themselves as they build healthy relationships and develop active bystander intervention skills. This innovative education strategy aligns with the Community Action for Responsive Education (CARE) Program's core values, which focus on a rigorous academic program and maintaining a strong partnership between students, parents, and teachers.
CARE provides a high-quality, alternative education program for at-risk students in grades 7-9 and builds upon student strengths as they prepare for high school, college, and beyond. The program is designed for students to be successful even though they may have difficulty meeting the behavioral and academic standards necessary to thrive in a traditional school setting. A lower student-teacher ratio helps ensure improved behavior and academic performance.
TEACH students participate in a variety of activities including, art, drama, games, and group discussions that solve peer issues and concerns. Community guest speakers, written letters, and care packages sent to U.S. Navy members have been highly successful with the 7th and 8th grade students. Communication and partnership with parents, teachers, and the community are central elements of the CARE program.
"My students are much more thoughtful and kind," CARE Program teacher, Janet Dewolf states. "I have noticed a marked positive change after using TEACH in her classroom for the last two years."
Charter CARE Programs are available at two middle schools and one high school campus in El Dorado County. For more information about Charter's CARE Program, visit our website at care.edcoe.org, or call (530) 295-2259.
Charter University Prep Teacher Receives Top Award
The California Arts Council has awarded Charter University Prep's (CUPrep) Kate Wells the Teacher Hero Award of 2016, for her work with the Poetry Out Loud program. For 11 years, the Poetry Out Loud competition has encouraged the nation's youth to learn about poetry through memorization and recitation. This program helps students master public speaking skills, build self-confidence, and learn about their literary heritage. Students compete at the local level and can advance to state and national levels. The Hero Award was established to acknowledge the remarkable work done in the classroom by thousands of teachers, coaches, teaching artists, and others who bring this program to life. This year, more than 50,000 students in 35 California counties participated in the competition.
Mrs. Wells teaches five English classes across three different grades, where she has made Poetry Out Loud a required component of the curriculum in every class. This allows her students to benefit from the program and succeed in the competitions. CUPrep students often appear in the El Dorado County finals, and some have finished as high as 2nd place statewide.
The El Dorado Arts Council nominated Mrs. Wells because of her dedication to her students and the Poetry Out Loud program. In the nomination letter, Poetry Out Loud Coordinator Moira Magneson noted that, "Clearly Kate is a catalyst for and friend of poetry in El Dorado County, absolutely fulfilling Poetry Out Loud's mission of reviving poetry as a national literary art. In uplifting language, poetry and young people, she has inspired a generation of individuals who will go out in the world fearless in their love of poetry and the arts!"
Mike Harris, CUPrep's Principal, noted, "Kate is a hero precisely because she doesn't see her students as fitting into a normal sentence. Each one is a thought, a feeling, and an infinitely unique individual. Kate demonstrates courage to give of herself so that others might be more."
Charter University Prep is located at the Charles Brown Educational Center in El Dorado. CUPrep focuses on addressing complex ideas and critical thinking, which are necessary for success at the University level. Poetry Out Loud supports the school's goals of systematically strengthening students' abilities to be rational, independently minded citizens who communicate effectively and contribute meaningfully to their communities.
For information about Charter University Prep, visit their website at cuprep.edcoe.org.
Charter Community School Students Learn Through Outdoor Class
Charter Community School (CCS) students recently completed a Wilderness Outdoor Skills class designed to help students learn to appreciate our area's surroundings while working together to focus on resourcefulness, problem-solving, and positive life skills. The outdoor class reflects the program's mission of making learning fun and relevant.
The class embarked on a trip to Kyburz, where students examined the topography of the surrounding area. Throughout this excursion, students strengthened their communication skills, reinforced their trust for one another, and enhanced their ability to develop basic survival skills that will benefit them throughout their lives.
Students enjoyed unlocking their creativity while safely enjoying the outdoors by troubleshooting projects such as making primitive water filters out of plastic bottles; reading topographical maps; and searching, gathering, and combining materials to make a pair of snowshoes. The snowshoes were fully functional and able to trek through the snow.
Throughout the year, students are also introduced to a variety of other activities, sports, and field trips such as rock climbing, snowboarding, cross-county skiing, and hiking.
"Students set goals and challenge themselves physically and mentally to reach them," CCS Principal Fred Mier noted. "It's truly a unique class and special experience."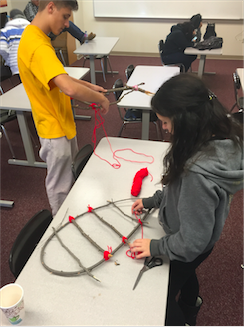 Tyler Bushing, 10th grade, and Taylor Bushing 9th grade make their Bushcraft snowshoes for their Wilderness Outdoors Skills class in Kyburz.
CCS, which is located at the El Dorado County Office of Education in Placerville, works to provide students in grades 7-12 with a 21st-century learning environment that challenges them to maximize their potential through a rigorous and engaging curriculum, while also preparing them for transition into college and career opportunities.
For more information about the program, visit http://charter.edcoe.org/ or call (530) 295-2259.