News & Events
Charter Career Prep Wins VEX Robotics Competition
The El Dorado County Office of Education's Charter Career Prep (CCP) program provides an enriched, hands-on learning culture that develops innovative learners to compete in an ever-changing world. Robotics naturally lends itself to these goals, and the CCP Robotics Team has certainly demonstrated the success of the program's educational mission for students. The CCP team recently won the prestigious San Joaquin Delta VEX Robotics Competition, including earning the coveted Tournament of Champions title and the Excellence Award, which are given to the team with the most well-rounded Robotics program. The CCP Robotics then went on to make it all the way to the quarterfinals at the 2017 California State High School Championship in San Jose, CA. "We are so proud of our students," noted Kym Wilkinson, Assistant Principal. "It is a huge accomplishment to be considered one of the best overall robotic teams in California."
The Robotics program is part of a larger Maker Space elective program that introduces students to mechanical and structural engineering, computer programming, and design through applied learning. Seniors Tom Ostby and Kalen Nelson, along with their teammates, combined their strengths and interests to build the Vex Robot that won them both regional and statewide recognition. "If the first time you try to build something and it doesn't work, keep trying," states Tom, noting that perseverance is an important skill to learn quickly. "We've rebuilt the robot so many times to correct design/programming flaws, but it's paid off in the end." The team members focus their robot design on being durable and effective, which proved beneficial during competition since the robot did not experience any broken parts. Students wrote more than 600 lines of programming code as part of the design process, including several autonomous functions.
A major element of the program's engaging curriculum is the emphasis on ensuring that all students are both college and career ready. The Charter programs offer a unique Advanced Education program that allows students to concurrently enroll in high school and Folsom Lake College. Advanced Education shortens the time it takes to earn a college degree, saving students money since the courses taken while in high school and are tuition free. "We provide a rich program that helps students also experience success in college at the same time," noted Principal Fred Mier.
More information about Charter Career Prep and the other Charter programs operated the El Dorado County Office of Education can found on their website at charter.edcoe.org or by calling (530) 295-2259.
Charter Career Prep students, seniors Tom Ostby and Kalen Nelson, explain their engineering and programming processes to the 2017 State Championship judges.
Charter College & Career Prep Provides New Opportunities for Students
The newly christened Charter College & Career Prep has started this school year with a myriad of new services that emphasize early college participation and success, as well as a curriculum rich with hands-on learning experiences. The program, which is located at the El Dorado County Office of Education in Placerville, merged two charter programs to create greater opportunities for students.
"What makes this new school truly remarkable is that we now have so many engaging programs that help students succeed in their adult lives, regardless of whether their plans are to go to college or straight into the workforce," noted Principal Fred Mier. "We are proud of our new Advanced Education Program as well as the many applied learning courses we can now offer our students in our state-of-the-art school facility."
The Advanced Education Program allows the Charter students to take community college courses concurrently during high school for free while earning both college and high school credits. Charter College & Career Prep and the Folsom Lake College El Dorado Center (conveniently located next door) work together to support students in their efforts through planning and meeting with each student. A Folsom Lake College Outreach Specialist meets with students twice a month to help streamline college enrollment and to ensure students have a positive and successful first experience at FLC.
"This school honestly gets better every year," senior Dakoda Carver reflected, "In a normal school, no one knows anyone and you just go to get it done. Here, every teacher knows every student and can help them customize their high school experience to their future goals."
The school also engages students with hands-on classes such as Culinary Arts, Maker Space, Robotics, and an Outdoor Wilderness Survival Skills course. This spring, Charter will also roll out a drone piloting and operator's training course. This cutting-edge program will allow students to become trained and certified in the fastest-growing segment of the aviation industry. "A career in the exciting and rewarding field of unmanned aviation can earn a six-figure salary for highly-skilled pilots," noted Doug Booker, a teacher at the school. "Allowing these students to begin their training now gives them an enormous advantage in beginning their careers."
The combination of the early college program and applied learning opportunities have proven very popular with the students as well.
"Culinary Arts is great because it is a life skill and prepares us for adulthood. This is an opportunity that most charters don't have. Here, we have good food and good people," remarked student Noelle Green.
Pictured above: Noelle Green displays her ingredients during a breakfast preparation in Culinary Arts class.
Pictured above: Bryan Jimenez, Elias Brown, Alexander Camancho practice mincing in Culinary Arts class.
The Advanced Education and applied learning programs at Charter College & Career Prep are examples of the many ways Charter Alternative Programs help guide students toward a successful transition into higher education and the workforce. Additional information about Charter College & Career Prep may be found at http://charter.edcoe.org/ or by calling (530) 295-2295.
Charter Students Benefit from New Language Immersion Program
El Dorado County Office of Education Charter students are benefiting from a new Japanese language program that features unique learning and exchange opportunities with high school students in Japan, including live video sessions. The popular new program, which is offered at Charter Connections Academy and Charter University Prep, engages students with its innovative approach. Students practice their emerging skills in live, face-to-face meetings with Japanese students. The program is typical of both schools' approach to learning, which emphasizes developing skills and critical thinking through real-world use and application. Both programs utilize 21st Century learning platforms and strategies to help ensure students are fully prepared for college and career success.
The Charter students practice their emerging Japanese language abilities with students of Veda Nishi School in Nagano, Japan, who are also using the opportunity to expand their knowledge in English. "I really enjoyed meeting students from Japan!" expressed senior Jalen Bush. "I've learned a little about the students, and we aren't as different as I thought. I was super nervous about our first cultural exchange, but seeing them try just as hard to speak English, as we tried to speak Japanese, helped a lot. I realized they're just kids like we are."
Joe Reichmann, Charter's Japanese teacher notes, "Through this activity students are learning how to speak Japanese in a fun and exciting way. Not only is language being taught, but our students are able to experience a beautiful culture. It's good to see students from different parts of the world enjoy communicating.
During their first video, the Charter students began their conversation by introducing themselves and the community of El Dorado County. In a later session, Veda Nishi students quizzed Charter students on the Japanese names of sports, animals, and fruit. In return, Charter students taught their Japanese peers words in English.
Charter Connections Academy and Charter University Prep are committed to providing meaningful direction, academic support, and counseling to help ensure students successfully transition to their next phase in life. The programs use a college-like instructional model in which students attend classes two days a week and practice independently the rest of the week. More information about Charter Connections Academy and Charter University Prep can be found at the Charter Alternative Programs' website atcharter.edcoe.org or by calling (530) 622-7130.
Above: Senior Jalen Bush discusses common interests with a student in Nagano, Japan.
Above: Students wait their turn to practice identifying fruit and animals in Japanese.
Welcome Back
Welcome to the 2017-18 school year! We are excited to begin another rewarding year by partnering with you in the success of our students.
Our Charter programs offer a range of high-quality public school options for families who desire a more personalized educational experience. We provide rich, engaging instructional programs that ensure our students meet their academic and career goals. We take great pride in each schools' positive and friendly culture, where students and parents are valued members of our Charter school family.
If you are considering one of our innovative programs, we encourage you to contact us for additional information or to plan a visit. We are here to serve you. Again, welcome back!
Main Office: (530) 295-2259
Charter Career Prep Students Learn by Doing
Charter Career Prep students recently completed an innovative project that strengthened students' math and critical thinking skills by designing and manufacturing scale model pool tables at every stage. The engaging, fun project is typical of the program, which emphasizes making learning relevant through hands-on projects and vocational opportunities. Students individually design their pool tables and then collaborate in groups of two or three to bring their ideas to life. El Dorado County Office of Education Charter Career Prep educators are passionate about providing tailored alternative education to ensure all students successfully transition to career or college opportunities.
During this project, table models and pool cues must be to scale and range from 6" by 12" to 24" by 48". Students begin by researching full-size pool table dimensions, then scale down their measurements and design their table on paper. These tables must be fully functional with a ball return system to gather the balls for the next game.
Once the design and list of materials is completed, they start building. Frequently, students identify design-flaws or a better way of construction and must troubleshoot and revise their project. They finish the pool tables using felt and paint or stain.
"It makes math fun," noted senior Rachel Seward. "I like learning math and woodshop skills at the same time while working with my hands and learning job skills."
Charter Career Prep, which is located in the town of El Dorado, works to prepare students to be college and career ready through engaging, rigorous curriculum. Throughout this project, students learn drafting/drawing, scale calculations, and material measurements and use shop equipment to cut, sand, shape, fasten and drill. They also use skills that will benefit them throughout their lives. More information about Charter Career Prep can be found on the school's website at ccp.edcoe.org or by calling (530) 621-2579.
High school senior Rachel Seward and teacher Anne Rhoads work together to stabilize the table and adhere felt to the table's top.
Charter Home Study Academy's Craft Faire Brings Delights
Students, families, and educators came together and enjoyed beautiful crafts and tasty food produced by Charter Home Study Academy (CHSA) transitional kindergarten through eighth grade students at their 18th Annual Craft Faire, on November 19. The multipurpose room at CHSA, located at the Charles Brown Education Center, was buzzing with activity as student vendors sold their homemade creations to appreciative customers of all ages. Students eagerly participated in the event by creating their own small business models and promoting and selling their products at the big event.
"Participating in this faire, students gain valuable experience in economics, money management, and marketing," noted Administrator Dianne Deitchman. Student products at this year's faire included holiday decorations, bracelets, paintings, origami, and sumptuous food fare.
The Craft Faire exemplifies the mission of the Charter Home Study Academy program, which emphasizes empowering students by building foundational skills and then applying those skills in ways that make learning engaging, relevant, and fun. The El Dorado County Office of Education CHSA program serves families who choose to home school their children. Students have the option to attend classes in core content areas, in addition to academics received at home guided by their parents and supported by credentialed teachers.
Transitional kindergartener Ava Pellegrini managed a booth where customers purchased a pre-decorated pet rock or shell and brought them to life with eyes and a mouth. Her goods were laid out on a blue display, and prices ranged from $0.50 to $1.50. "She has helped her sixth grade brother Kyle for the last two years with his booth, and this year she insisted on having her own," expressed Ava's mother Jennifer Pellegrini. "So she made it happen, and it's great to see her learning while being creative."
Another sibling team was seventh grader Libby and fifth grader Renae Webb who shared a booth, pooled their recourses, and split the profits. "I am selling popcorn snacks with chocolate chips, and my sister and I made this display out of piping, ribbon, and fall decorations," Libby proudly announced. "I really enjoy this project and had a lot of fun and learned a lot about money."
After selling their wares, vendors visited classmates' booths to barter and purchase goods. Prizes were given in categories such as Master Entrepreneurs, Best Marketing, Best Display, and Most Innovative Products. More information about the Charter Home Study Academy program can be found at chsa.edcoe.org or by calling 530-622-6984.
Extended Day Comes Back to School 'Funtastically'
Extended Day child care team members from EDCOE were welcomed back from summer break with an "It's Funtastic!" in-service training day. The in-service, which is part of a regular professional development model, allowed staff to gain crucial knowledge on a variety of topics designed to ensure that Extended Day continues to provide outstanding service to families in the community.
Guest speakers presented information on different ways to provide fun and engaging program elements for students, and in addition there was training on a variety of other topics, including epi-pen regulations and administration, common medical concerns, the program's new website, and various personnel information.
"The day was filled with positive energy, and our team received great training to ensure another successful school year," Extended Day Program Supervisor Lori Scalaro expressed.
"Extended Day provides educationally enriching child care before, during, and after school on 22 schools sites throughout El Dorado County," Scalaro added. "I am proud of our team and their hard work delivering high-quality support and services to our students and families."
More information about Extended Day can be found on the program's website at http://eday.edcoe.org/ or by calling (530) 295-2298.
Roping in Quality Education
Charter Community School leadership students spent Thursday, September 10, challenging themselves, working as a team, problem solving and overcoming fears on the Mother Lode River Center Ropes Course in Lotus. First, they strengthened their leadership and communication skills solving problems on lower level obstacles then moved on as a group to high level obstacles, including "Leap of Faith," "Rock Wall Climbing" and "High Wire Walk."
The El Dorado County Office of Education (EDCOE) Charter Community School fosters the academic, emotional, and behavioral development of students in a 21st century learning environment that maximizes students' success. They provide high quality instruction in small classes that make learning fun and relevant.
"At Charter Community School, we emphasize the development of the whole individual in safe, supportive learning environments," teacher Lisa Boyle stated. "The ropes course was a very rewarding adventure for all of the students, as they learned to trust each other in leadership roles as well as relying on each other during physical challenges. Effective communication was the key to their success."
High school junior Francisco Robles took a lot from this engaging experience, "It built a lot of trust learning how to work together and how you can overcome obstacles such as fear. I was very nervous about the "Leap of Faith." After I was successful in getting down, I wanted to do it again. It was a confidence builder."
Students will apply these skills and leadership techniques while planning and implementing activities at school. The new confidence in their personal abilities will allow them to experience the rewards of working together as a team. "I was very scared and didn't want to do the "Wire Walk." My classmates helped to encourage me to try it. I partnered with Misty Godsey. We were both afraid but worked together to complete the task. I learned to trust people that I didn't know that well before," high school junior Vanessa Granados expressed.
For more information about EDCOE Charter Alternative Programs, click here >>
Charter Alternative Programs Awarded a Six Year Term of Accreditation
The El Dorado County Office of Education's (EDCOE) Charter Alternative Programs were recently awarded a six-year term of school accreditation from the Western Association of Schools and Colleges (WASC). The six year accreditation, which is the longest term available, is formal recognition on the part of WASC as to the very high caliber of our Charter educational programs, which included all K-12 programs. A five person visiting committee from WASC completed a three day review of our programs March 9- 11, and the WASC team was very impressed with the quality and range of educational opportunities afforded the community through EDCOE's Charter Alternative Programs. Students, parents, staff, and other stakeholders played a key role in writing the Self-Study Report. The positive report from WASC was due to the highly collaborative nature of those relationships. Jeremy M. Meyers, El Dorado County Superintendent of Schools, noted, "WASC's awarding of a six year term is recognition and confirmation of the outstanding work our staff delivers to our students and families."
To view our full Self-Study report please click here: Final Self-Study
To view the Visiting Committee's full report please click here: WASC Visiting Committee Report
Charter Career Prep Students Explore the Future of Robotics
El Dorado County Office of Education's Charter Career Prep school has introduced an innovative program examining the world of robotics through the career technical elements of programming, mechanical design, construction, and testing. This high energy program engages and challenges students to create robots from a box of metal strips, platforms, motors, and batteries.
The program, which was designed by Career Prep teacher Doug Booker, provides students with real-world skills including collaboration, problem solving, computer science, and project management. Students focus on STEM (Science, Technology, Engineering, and Mathematics) classroom activities, while learning the importance of communication and teamwork.
"When I first started this class, I didn't know anything about robots, and now I know how to program, design, and build a robot," high school senior Brittany Ulrey expressed. The program, serving grades 7-12, also educates students about the variety of work opportunities available after graduation, including computer science.
Recently, students learned how gear ratios and the robot's weight impact performance. The students' creations are tested by gliding, grasping, and catapulting balls across the classroom - skills they will use in competition with other students at the VEX Robotics tournament in Dublin, California, on January 9t.
The robotics program is typical of the engaging, hands-on approach to learning students experience at Charter Career Prep. The school emphasizes career and vocational skills development in a nurturing, mentor-rich setting. Educators and staff focus on ensuring students successfully transition to career or college opportunities after graduation. For more information about Charter Career Prep, call (530) 295-4560 or visit ccp.edcoe.org
Charter Career Prep students Jace Young (junior) and Kalen Nelson (sophomore) collaboratively work on their robot.
Charter CARE Programs Embrace TEACH
Charter CARE Program students TEACH their way to a healthier lifestyle. The TEACH program is sponsored through a grant by the Center for Violence-Free Relationships in Placerville. Students learn to express themselves as they build healthy relationships and develop active bystander intervention skills. This innovative education strategy aligns with the Community Action for Responsive Education (CARE) Program's core values, which focus on a rigorous academic program and maintaining a strong partnership between students, parents, and teachers.
CARE provides a high-quality, alternative education program for at-risk students in grades 7-9 and builds upon student strengths as they prepare for high school, college, and beyond. The program is designed for students to be successful even though they may have difficulty meeting the behavioral and academic standards necessary to thrive in a traditional school setting. A lower student-teacher ratio helps ensure improved behavior and academic performance.
TEACH students participate in a variety of activities including, art, drama, games, and group discussions that solve peer issues and concerns. Community guest speakers, written letters, and care packages sent to U.S. Navy members have been highly successful with the 7th and 8th grade students. Communication and partnership with parents, teachers, and the community are central elements of the CARE program.
"My students are much more thoughtful and kind," CARE Program teacher, Janet Dewolf states. "I have noticed a marked positive change after using TEACH in her classroom for the last two years."
Charter CARE Programs are available at two middle schools and one high school campus in El Dorado County. For more information about Charter's CARE Program, visit our website at care.edcoe.org, or call (530) 295-2259.
Proud Adult Students Achieve their High School Diplomas
Twenty-four adult graduates received their diplomas at one of the most inspirational ceremonies in El Dorado County on Tuesday, May 31. The El Dorado County Office of Education (EDCOE) offers support and services to students of all ages, and the Adult Education Programs allow individuals to complete a variety of educational milestones that otherwise may have seemed out of reach. Principal Gary Sutherland oversees the Adult Education Programs and gave these words of encouragement, "We acknowledge you for a variety of reasons as you have conquered trials and tribulations to arrive at this point of success. I commend all of you and want to encourage you to give back and lend a hand to those around you. May today be the beginning of a new journey."
Teacher Vicky Peoples also addressed the graduates and stated, "This program is so much different than high school. Some of you have jobs, major responsibilities, spouses, and children. If you are parents, you are also teachers – you are both students and educators."
Heather Hawkins was joined by her proud family and gave a speech to her classmates, "Because of this program, I can do whatever I want to do and be whoever I want to be. I did this because I want to be a good role model for my children."
Student Robert Diller might have been a self-proclaimed nervous wreck, but he delivered his speech like a pro. "I want to thank my family because this would not have happened without their support. Today is a beautiful day!"
Along with the adult diploma program, Adult Education Programs offer GED preparation and testing, adult basic education skills, English as a second language, career development, computer literacy, test preparation, concurrent high school classes, and more. Classes are offered year-round in various formats such as the traditional classroom setting and distance learning. Recently celebrating its 10-year anniversary, the program continues to expand and grow to meet the needs of the County. The program provides free-of-charge classes across the County to any person 18 years of age or older. For more information about the program, visit http://aded.edcoe.org/
Principal Gary Sutherland, the Adult Education Class of 2016, and teacher Vicky Peoples gather for a beautiful evening of celebration and thanks. Congratulations Graduates!
Student Heather Hawkins gives a passionate speech about how completing this program has opened a new world of opportunity and promise.
Charter Adult Education Inspires Students of All Ages to Reach Their Goals
The El Dorado County Office of Education (EDCOE) Charter Adult Education program provides adult learners from every walk of life with a wide range of rich learning experiences tailored to meet their unique needs. The programs have been especially beneficial for adult learners who face a variety of life challenges. One such student is Kristy Arroyo, who attends classes at the Shingle Springs Band of Miwok Indians Rancheria.
Kristy has faced numerous obstacles in her life, including being legally deaf, as she only has partial hearing. The Tribe recently purchased Kristy a new set of hearing aids, which has greatly contributed to her progress. Kristy is determined to earn her high school diploma through the Adult Education program, which is operated by EDCOE in partnership with the Tribe. The Tribe is supporting her in reaching her educational goals.
Kristy has an infant daughter so she is determined to be a conscientious student and mother. "I am so grateful this time around, with a new baby, and knowing what is best for me now," stated Kristy. "Graduating and earning my high school diploma will help me find a job and provide for my child. It has been a great benefit that the Rancheria's Adult Education program is family friendly." Kristy often arrives with her baby for her individual tutoring session where she can take notes and ask questions. Through this experience, Kristy has inspired her own mother to also begin working toward completing a high school diploma.
The Charter Adult Education program prides itself on the passion of its staff, who are committed to helping adult learners succeed in life. The teachers are fully credentialed and highly trained in supporting adult learners reach their dreams. "We have a wonderful staff, who really care about helping the students reach their goals," noted Principal Gary Sutherland. "The personalized support and the caring relationships are a huge reason for the success we are seeing across our programs."
Charter's Adult Education classes are offered throughout El Dorado County in structured, yet flexible learning environments, and all of the courses are free. More information about Charter's Adult Education programs can be found on the Charter website at aded.edcoe.org or by calling (530) 295-2259.
Pictured: Adult student Kristy Arroyo attends an individualized tutorial session with Adult Education Staff member Sally Storamski.
Students Earn College Credit at EDCOE Charter Alternative Programs
The El Dorado County Office of Education Charter Alternative Programs have launched a special college and career readiness program that provides the opportunity for Charter students to enroll in college courses while still completing their high school diploma. The program, which is offered in partnership with the Folsom Lake College El Dorado Center, allows the Charter students to take community college courses concurrently during high school while earning both college and high school credits.
"We are in the business of empowering students to ensure students succeed in life," noted Principal Fred Mier. "This new program exemplifies that mission by helping students realize new college and career opportunities through direct college experience and success. The fact that the college is right next door to our Community School makes it incredibly easy for our students to participate."
The El Dorado Center College and the Charter staffs work together to provide a built-in support system. The team - which includes an Outreach Specialist from Folsom Lake College - meets with the Charter students twice a month to ensure students are successful, including developing an individual college plan for each student. Currently 30 students from the Charter Community School and Charter Career Prep programs are registered in the Advanced Education program, which provide transfer opportunities to accredited colleges.
The program has proven very popular with the Charter students. "It's a really nice opportunity for Charter students to be able to walk right up to the college next door and take classes that count for both college and high school credits," noted Maritza Poirot, a junior at Charter Community School, which is located at the El Dorado County Office of Education. "Before I didn't really think about going to college, but now that I have the opportunity to go to college for free, I'm making the most of it. I'm now interested in taking other classes to help me get a good job right out of high school."
The programs emphasize college and career readiness and success by utilizing a rich, engaging curriculum supplemented with variety of strategies to get students thinking about, and involved in, planning their futures, including providing a variety of career aptitude assessments and hosting monthly guest speakers from local businesses and organizations, who help guide students toward a successful transition into higher education and the workforce. Classroom discussions focus on the opportunities in our area for young adults -- whether through internships, job training, or academic pursuits.
The Advanced Education program is one of the many ways Charter Alternative Programs help guide students toward a successful transition into higher education and the workforce. The programs provide a variety of high quality, innovative, 21st Century programs that emphasize the development of the whole individual in safe and supportive learning environments. Additional information about Charter Alternative Programs may be found at charter.edcoe.org or by calling (530) 295-2259.
Teacher Lisa Boyle joins students Maritza Poirot & Ondre Sanders, who both enjoy taking college classes through Charter Community School's Advanced Education Program.
EDCOE Charter Students Receive Regional and National Honors for their Writing
The El Dorado County Office of Education (EDCOE) Charter students recently received National, Regional, and Local awards for their exceptional writing at a dinner hosted by the Fleet Reserve Association. Each year, the Reserve sponsors a writing contest for 7-12th grade students to promote the spirit of American patriotism among our country's youth.
Embracing this year's writing theme, What Memorial Day Means to Me, the Charter students showcased their skills and came away with several awards. Macey Deruell, a sophomore at Charter University Prep, won first place at the National level, while Hannah Frost, eighth grade, secured third place. At the Regional level, Senior Juliana Eggert, won first place, and eighth grade student, Abriana Stewart, placed second. Elyse Johnson, a Junior, won third place at the Local level.
Teachers WilleJune Eggert and Cherri Whiteley, who guided the students' efforts, are two of the many EDCOE Charter educators who are passionate about providing rigorous and engaging curriculum that boost each student's potential. "We take great pride in seeing our students use and apply relevant and effective communication skills," noted Principal Mike Harris. "Our students gain confidence, and it helps them transition seamlessly into college and career opportunities, which are key priorities for the Charter Alternative Programs."
For more information regarding the EDCOE Charter programs operated by the El Dorado County Office of Education, visit our website at charter.edcoe.org or by calling (530) 295-2259.
Photo: Distinguished students at Charter University Prep are recognized for their gifted writing at a dinner hosted by the Fleet Reserve Association. Left to right: WilleJune Eggert, Hannah Frost, Julianna Eggert, Abriana Steward, Bud Sweet, Elise Johnson, Macey Deruelle, & Cherri Whiteley.
Charter Community School Students Learn Through Outdoor Class
Charter Community School (CCS) students recently completed a Wilderness Outdoor Skills class designed to help students learn to appreciate our area's surroundings while working together to focus on resourcefulness, problem-solving, and positive life skills. The outdoor class reflects the program's mission of making learning fun and relevant.
The class embarked on a trip to Kyburz, where students examined the topography of the surrounding area. Throughout this excursion, students strengthened their communication skills, reinforced their trust for one another, and enhanced their ability to develop basic survival skills that will benefit them throughout their lives.
Students enjoyed unlocking their creativity while safely enjoying the outdoors by troubleshooting projects such as making primitive water filters out of plastic bottles; reading topographical maps; and searching, gathering, and combining materials to make a pair of snowshoes. The snowshoes were fully functional and able to trek through the snow.
Throughout the year, students are also introduced to a variety of other activities, sports, and field trips such as rock climbing, snowboarding, cross-county skiing, and hiking.
"Students set goals and challenge themselves physically and mentally to reach them," CCS Principal Fred Mier noted. "It's truly a unique class and special experience."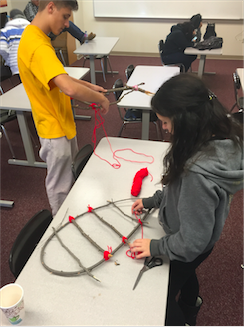 Tyler Bushing, 10th grade, and Taylor Bushing 9th grade make their Bushcraft snowshoes for their Wilderness Outdoors Skills class in Kyburz.
CCS, which is located at the El Dorado County Office of Education in Placerville, works to provide students in grades 7-12 with a 21st-century learning environment that challenges them to maximize their potential through a rigorous and engaging curriculum, while also preparing them for transition into college and career opportunities.
For more information about the program, visit http://charter.edcoe.org/ or call (530) 295-2259.
Charter University Prep Student Test Scores Shine
Students across California took new, electronic assessments this last spring, and El Dorado County Office of Education (EDCOE) Charter University Prep is pleased to announce that their students scored exceptionally well. In English, 75% of 7th grade, 100% of 8th grade, and 97% of 11th grade students scored "meeting or exceeding" the state standards – a level of scores achieved by very few school in the state. In math, 7th, 8th, and 11th grade students scored well, like many other schools in El Dorado County, which is among the highest scoring region in California.
EDCOE Charter University Prep serves 7th – 12th grade and provides the highest quality instruction and curriculum in math, science, the humanities, foreign languages, and the arts. The school systematically strengthen students' abilities to be rational, independently minded citizens who communicate effectively and contribute meaningfully to their communities.
"We are proud of our students and are pleased that these scores validate our championed approach to learning. Our goals have always been to teach students how to think and communicate critically," Charter University Prep Principal Mike Harris expressed. "Our teachers do an incredible job helping students understand both the big picture and the relevant details. Our parents and students take education seriously and the combination of all of these factors produces outstanding results, whether it is on state tests or preparation for college and life."
The new assessments are computer-based tests that measure student knowledge of California's English language arts and mathematics standards in grades 3-8 and 11. The assessment system provides students and teachers with a wider range of questions tailored to more accurately identify the knowledge and critical thinking skills individual students have mastered.
Overall school results have been released by the State of California, and parents will receive individual student scores in the mail soon. The new assessments are too fundamentally different from the old exams to make any reliable comparisons between old scores and new. This year's scores are better thought of as a starting point - - a baseline for the progress students will make over time.
Educators at Charter University Prep look forward to reviewing the detailed reports, as they become available in the next few weeks. "We are committed to continuing our mission to prepare students for success in their future education and careers," Harris added. For more information regarding Charter University Prep, visit http://cuprep.edcoe.org/
Charter Connections Academy (CCA) & Charter University Prep (CUPrep) Students Score well on 2016 State Tests
Students in grades 7, 8, and 11 are tested each spring in English Language Arts and Math. The tests are one measure in determining whether students are on track to be ready for college and careers. In English, CUPrep scores exceeded, by a large margin, both El Dorado County averages and State Averages. In 11th grade, 95% of the students scored "met or exceeded" college readiness, the vast majority scoring in the "exceeded" category. We were very pleased with our CCA scores as well. We found that the students who have been with us throughout high school overwhelmingly scored at the "met standards" of college readiness in English. Those that did not were primarily those students who had transferred to CCA in the past year. This is very encouraging for parents, students, and staff.
In Math, our scores are average. This is not exactly where we want to be, but it is a perfect opportunity to explain further how we are seeing math curriculum evolving. California public schools have made a significant shift in math instruction towards the new state standards, starting about five years ago. College math has not shifted towards high school level standards, so there is a gap between what college professors need students to know and what is being taught in high school under the new state standards. We expect that colleges and universities will adapt curricular approaches somewhat to accommodate students coming out of high school programs and that over time, the disparities will be fewer. Even the SAT has undergone some changes to more reflect a problem solving approach to math. The idea behind the shift in approaches in the new state (and national Common Core) standards is to focus students on how to solve problems as opposed to just being able to work through algorithms.
At CCA, five years ago, very few students took any math classes beyond geometry. This past two years, we have doubled each year the number of students taking Algebra 2, and we expect that trend to continue. Those who took Algebra 2 last year did very well on the state tests, which makes sense since there are many questions at that level. Every year, more of our students are taking advanced Math and Science classes which we believe will show as an improvement on state tests. Mathematical reasoning is understood in the context of science, so the more we engage students in science concepts, the better their math understanding will be.
We will continue to modify our approaches to support our mission while also ensuring that students aren't missing out on things. This year, we have adopted a more state standards based curriculum in Junior High and think that a shift in that direction will bear fruit on the state tests as well as continue to prepare students to be successful in the higher level courses. We continue to meet with college math teachers to make sure our students are well prepared for their future courses.
At CUPrep, we have always had the mission of preparing students for success at the university level, so we have geared our math curriculum and approaches so that students would be successful in Statistics and Calculus math courses. The vast majority of students at CUPrep take classes beyond Advanced Algebra 2 and do so very well. Our students are typically the top students in Calculus at Folsom Lake College, and we send a high percentage of students directly to Universities where they are very successful. This hasn't always been reflected on state tests where much emphasis is placed on probability-type problems. Students who move on to Pre- Calculus and higher courses pick up probability concepts easily. We haven't placed much emphasis on probability in lower levels, and our scores on those state tests reflect this. ­­­­
We have always been deliberate on what we teach and how we teach it. We avoid social and educational trends which change with the wind. As I have traveled around the world, looking at methods of teaching Math, I have seen a clear difference in how other countries approach math and how we teach math in the United States. By far, most countries teach Math by rote memory. Students memorize and work thousands of problems in arithmetic and algebra. You see their successes on international tests, which emphasize this rote memory type of approach, because the students have done many similar problems in classes and homework assignments. Our culture has not supported this approach, and I see no trends in the future moving in that direction. Instead, the United States approach focuses on a deeper understanding of the reasoning in math. This takes time, effort, and patience. We also have not done a great job in the past 30 or so years requiring students to master arithmetic processes. I believe the ideal is for students to have a balanced approach where a student works so many problems that the procedures become automatic, and that with that foundation, he or she can explore the deeper uses of math without stumbling on the procedures. Automaticity with arithmetic and algebra is essential for success in higher level math courses.
Thank you for a) reading through this long-winded article about test scores, and b) entrusting us to work with your students to help them prepare for their educational and occupational futures.
Mike Harris
Principal, CCA & CUPrep
Program Update for Extended Day Programs
EXTENDED DAY IS COMING TO
CHARTER MONTESSORI AT VALLEY VIEW FOR 2017-18!
K-8 Before and After School Child Care
On-site Pre-Registration:
Tuesday, July 25th and Thursday, August 3rd
6:30-10:00 a.m. OR 3:00-7:00 p.m.
Charter Career Prep Students Learn About Life
Charter Career Prep (CCP) students recently completed an innovative project that strengthened students' science, research, and critical thinking skills by gathering and testing emu eggs for viability. The engaging, fun project is typical of the program, which emphasizes making learning relevant through hands-on projects and vocational opportunities.
Students monitored the weekly progress by measuring the weight of four eggs until they hatched. Of the four eggs, one emu successfully hatched, and subsequently attended class every day for two weeks. Students continued to monitor its growth and weigh it weekly as it grew quickly, noting its first milestones: first standing, able to walk without falling, able to run, as it developed. At CCP this type of project and thinking prepares students to successfully transition to career or college opportunities as part of the school's mission.
"Growing the emu and watching the egg hatch was awesome," Jordyn Todtenbier, 11th grade, described the experience. "I learned we sometimes have to be very patient with anything in life."
Charter Career Prep, which is located in the town of El Dorado, works to prepare students to be college and career ready through an engaging, rigorous curriculum. Our small school environment supports skills that will benefit students throughout their lives. For more information about Charter Career Prep, visit our website website at ccp.edcoe.org or by calling (530) 621-2579.
Charter University Prep Teacher Receives Top Award
The California Arts Council has awarded Charter University Prep's (CUPrep) Kate Wells the Teacher Hero Award of 2016, for her work with the Poetry Out Loud program. For 11 years, the Poetry Out Loud competition has encouraged the nation's youth to learn about poetry through memorization and recitation. This program helps students master public speaking skills, build self-confidence, and learn about their literary heritage. Students compete at the local level and can advance to state and national levels. The Hero Award was established to acknowledge the remarkable work done in the classroom by thousands of teachers, coaches, teaching artists, and others who bring this program to life. This year, more than 50,000 students in 35 California counties participated in the competition.
Mrs. Wells teaches five English classes across three different grades, where she has made Poetry Out Loud a required component of the curriculum in every class. This allows her students to benefit from the program and succeed in the competitions. CUPrep students often appear in the El Dorado County finals, and some have finished as high as 2nd place statewide.
The El Dorado Arts Council nominated Mrs. Wells because of her dedication to her students and the Poetry Out Loud program. In the nomination letter, Poetry Out Loud Coordinator Moira Magneson noted that, "Clearly Kate is a catalyst for and friend of poetry in El Dorado County, absolutely fulfilling Poetry Out Loud's mission of reviving poetry as a national literary art. In uplifting language, poetry and young people, she has inspired a generation of individuals who will go out in the world fearless in their love of poetry and the arts!"
Mike Harris, CUPrep's Principal, noted, "Kate is a hero precisely because she doesn't see her students as fitting into a normal sentence. Each one is a thought, a feeling, and an infinitely unique individual. Kate demonstrates courage to give of herself so that others might be more."
Charter University Prep is located at the Charles Brown Educational Center in El Dorado. CUPrep focuses on addressing complex ideas and critical thinking, which are necessary for success at the University level. Poetry Out Loud supports the school's goals of systematically strengthening students' abilities to be rational, independently minded citizens who communicate effectively and contribute meaningfully to their communities.
For information about Charter University Prep, visit their website at cuprep.edcoe.org.
Important Information Regarding Confidential Student Data
In the interest of keeping our parents and families current with educational legal landscapes and regulations, please find the following information regarding students who have special needs.

In April 2012, two organizations - the Morgan Hill Concerned Parents Association and the Concerned Parent Association - filed a lawsuit against the California Department of Education (CDE) alleging that the state is not providing a free and appropriate public education to children with disabilities as required by law.
U.S. District Judge Kimberly Mueller in Sacramento ruled last year that the nonprofits could access records with strict measures of protection, including a protective order prohibiting the disclosure of any confidential information accessed for the trial.
Our school district was not involved in the lawsuit and is not the subject of any of the suit's allegations. Nonetheless, as a part of this lawsuit, CDE has been ordered by the court to release all data it has collected on general and special education students since January 1, 2008. For more information regarding the release of this data visit:http://www.cde.ca.gov/morganhillcase
Ed Manansala, Ed.D. Appointed County Superintendent
The El Dorado County Board of Education is pleased to announce that Ed Manansala, Ed.D. was sworn in as El Dorado County Superintendent of Schools on Tuesday, January 5, after a thorough recruitment, selection, and vetting process.
"El Dorado County is a special place where everyone in the community is truly committed to providing a high-quality education for all students," Dr. Manansala stated. "It is an honor and privilege to be selected for this role and to continue to support the fine work being done by our many programs, by our school districts, and by our community organizations."
Dr. Manansala has been serving as the Deputy Superintendent of Educational Services at the El Dorado County Office of Education (EDCOE) since June 2013, and currently participates in many local community groups, nonprofits, and education associations. Prior to his work at EDCOE, he served as Interim Chief of Staff at Sacramento City School District, Superintendent of St. HOPE Public Schools, and Principal of Sacramento Charter High School.
The Board of Education ensured that the recruitment and selection process for the new superintendent was transparent, inclusive, and competitive. Community involvement was also a top priority of the Board, and there were several opportunities for the community to provide input. Additionally, interviews and board deliberation took place in an open session meeting on Monday, January 4.
"We wanted to take the time to thoughtfully move through this process, honor the community's desires, and make the right decision," Board President Rich Fischer explained. "Ed has a proven track record of integrity, effective leadership, and looking out for our county's best interest. We look forward to his continued leadership."