Charter Community School Students Learn Through Outdoor Class
Charter Community School (CCS) students recently completed a Wilderness Outdoor Skills class designed to help students learn to appreciate our area's surroundings while working together to focus on resourcefulness, problem-solving, and positive life skills. The outdoor class reflects the program's mission of making learning fun and relevant.
The class embarked on a trip to Kyburz, where students examined the topography of the surrounding area. Throughout this excursion, students strengthened their communication skills, reinforced their trust for one another, and enhanced their ability to develop basic survival skills that will benefit them throughout their lives.
Students enjoyed unlocking their creativity while safely enjoying the outdoors by troubleshooting projects such as making primitive water filters out of plastic bottles; reading topographical maps; and searching, gathering, and combining materials to make a pair of snowshoes. The snowshoes were fully functional and able to trek through the snow.
Throughout the year, students are also introduced to a variety of other activities, sports, and field trips such as rock climbing, snowboarding, cross-county skiing, and hiking.
"Students set goals and challenge themselves physically and mentally to reach them," CCS Principal Fred Mier noted. "It's truly a unique class and special experience."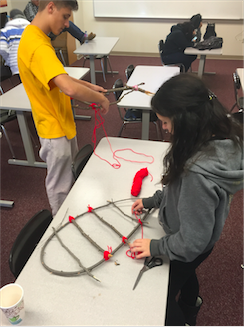 Tyler Bushing, 10th grade, and Taylor Bushing 9th grade make their Bushcraft snowshoes for their Wilderness Outdoors Skills class in Kyburz.
CCS, which is located at the El Dorado County Office of Education in Placerville, works to provide students in grades 7-12 with a 21st-century learning environment that challenges them to maximize their potential through a rigorous and engaging curriculum, while also preparing them for transition into college and career opportunities.
For more information about the program, visit http://charter.edcoe.org/ or call (530) 295-2259.