Charter Connections Academy Biology Students Visit Nimbus Fish Hatchery
Biology students of Charter Connections Academy were treated to a guided tour of the Nimbus Fish Hatchery from by the CA Dept. of Fish and Game.
"The students learn a lot about the American River watershed and habitat. They also learn about the effects of man-made dams on river habitats," explained Jolene Bishop, biology teacher. "This experience ties excellently into our ecology unit and allows students to understand the practical application of what is happening in our classroom labs."
One of the focal points of this excursion was understanding the spawning cycle of salmon, which are spawning in the American River below Nimbus Dam. Students learned the effects of human interaction with an ecosystem, including the role of the hatchery in the spawning cycle. To make up for the loss of access to spawning grounds above Nimbus and Folsom dams, a fish ladder made up of concrete "steps" allow the salmon to move from the river to the hatchery building/visitor center. The hatchery will collect fertilized eggs from these river salmon and raise them to an age where the young fish are released into the delta.
The field trip went beyond simply observing the salmon at the hatchery. The Dept. of Fish and Game guide showed the students a resident Peregrine Falcon, multiple species of ducks including mallards and goldeneye ducks, river cormorants, seagulls, great blue herons, and various small songbirds. During a hike on the riverbank to observe the ecosystem, students picked up rocks to find the smaller, freshwater organisms found in the shallows, such as multiple types of larvae and small leeches.
"It was more interesting to see the real-life value of what we were learning," stated tenth-grade student Julie Kaihe, "This was a much better way to learn than just leaving the concept to the students to picture."
Students also learned about the career opportunities from the CA Dept. of Fish and Game and the job requirements of working at the hatchery. The hatchery guide explained that he had completed community college, which included ten science courses, and that a college degree is not required to work for the CA Dept. of Fish and Game.
Charter Connections Academy is committed to providing meaningful direction, academic support and counseling to help ensure students successfully transition to their next phase in life. The programs use a college-like instructional model where students attend classes two days a week and practice independently the rest of the week.
More information about Charter Connections Academy can be found at the Charter Alternative Programs' website at cca.edcoe.org or by calling (530) 622-7130 Ext. 2534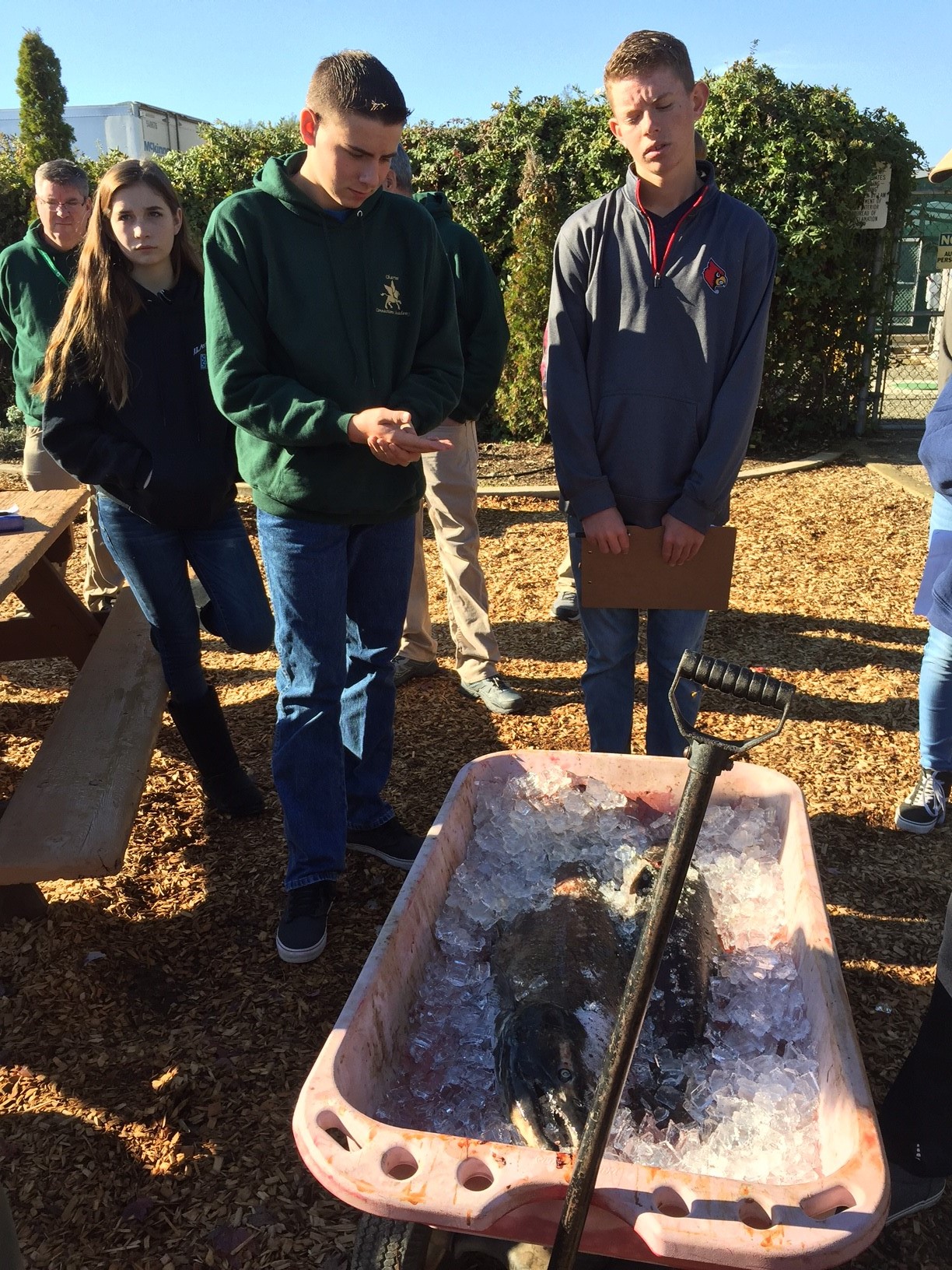 Danielle Nicolay, Gage Worth, and Bret Nelsen observe the body of a salmon