Charter Home Study Academy Craft Faire Celebrates 20 Years
On Thursday, November 15th, the Charter Home Study Academy (CHSA) program celebrated the 20th anniversary of its annual Student Craft Faire, where student entrepreneurs peddled their wares to customers of all ages. Each booth, staffed by a student crafter between transitional kindergarten and eighth-grade, sold handmade products such as jewelry, toys, cuisine, and decorations. By having students create and run their own business, the Craft Faire aligns to CHSA's mission of building and applying foundational skills in ways that make learning engaging, relevant, and fun.
"In order to participate, students must submit a business plan that outlines their products, prices, and marketing strategy," said school administrator Dianne Deitchman. "In doing so, students gain valuable experience in creative thinking, economics, and money management."
After selling their wares, vendors visited classmates' booths to barter and purchase goods. Students also received prizes in categories such as Master Entrepreneurs, Best Marketing, Best Display, and Most Innovative Products.
Winners:
1st Place: Master Entrepreneur - Peyton Smith, 3rd grade, patriotic signs
2nd Place: Master Entrepreneur - Riley Smith, 6th grade, western-themed decorations
3rd Place: Master Entrepreneur - Abby Montgomery, 8th grade, hot cocoa & desserts
Best Display: Evelyn Shugart, 3rd grade, created a tiny bedroom to display her doll pillows
Best Marketing: Hunter Tranum, 7th grade, superhero & Disney truffles
Most Innovative Product: Kadence Gobble, 8th grade, decorative succulents
Best Slogan: Levi Morton, 6th grade, "Take a ride on the sugar side"
Best Logo: Riley Smith, 6th grade, "Lucky Buckaroo"
Peyton Smith, winner of the Master Entrepreneur award with her storefront, Peyton's Patriotic Signs, made an impact on the judges with her business cards, slogan, and overall theming, decorating her booth in red, white, and blue as well as wearing clothing featuring stars and stripes. "I spent a lot of time thinking about what I wanted to sell this year," noted Smith. "My brother won last year, so I worked hard to put as much effort into my store as he did. I was happy with my store and how I supported our country while learning about business."
The CHSA program, which is located at the Charles Brown campus, provides significant support and resources for families who choose to homeschool their children. Students have the option to attend classes in core content areas, or do their studies entirely at home, guided by parents and supported by credentialed teachers.
More information about the Charter Home Study Academy program can be found at chsa.edcoe.org or by calling (530) 622-6984.
Peyton Smith, third grade, Master Entrepreneur winner, selling her wares with her siblings
Hunter Tranum, seventh grade, best marketing winner, displaying his themed chocolates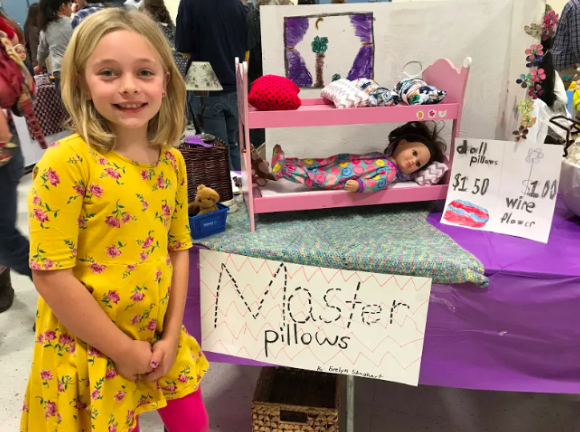 Evelyn Shugart, third grade, with her award-winning doll pillow display