Charter Home Study Academy's Innovative Math Program Yields Positive Results
Thanks to a new, innovative math support program at Charter Home Study Academy - students, parents, and teachers are seeing increased academic engagement and performance this year. The positive results are reflected in students' real-world understanding and excitement about math.
"I like math in this new class!" said 3rd grader Evelyn Shughart. "We do lots of activities and games that make math way more fun!"
As a means to support parents teaching math at home, Kindergarten through 5th-grade classes added an hour a week of conceptual and visual math instruction, while students in grades 6-8 supplement core classes with an extra period devoted to math exploration and discovery.
"Parents appreciate our ability to build on foundational math skills vital for student success," noted Program Administrator Dianne Deitchman. "Our program provides an unparalleled amount of support for home school students to succeed in rigorous mathematics courses."
Students strengthen their math skills through engaging conceptual and visual instructional strategies. For example, 3rd-grade teacher Laurie Powell recently taught her students the concept of a perimeter by having them surround various items in the class with different lengths of string.
"The new classes are showing students that solving real-world math problems can be fun," noted 6th-grade teacher Julie Donner. "Students are enjoying the new courses and readily applying what they learn. The average score of our last chapter test was 27% higher than last year."
Charter Homes Study Academy's unique program serves TK through 8th-grade families who homeschool their children. Classes are offered for a portion of the week so that students can receive direct instruction and support from credentialed teachers while collaborating with peers.
More information about the Charter Home Study Academy program can be found at chsa.edcoe.org or by calling (530) 622-6984.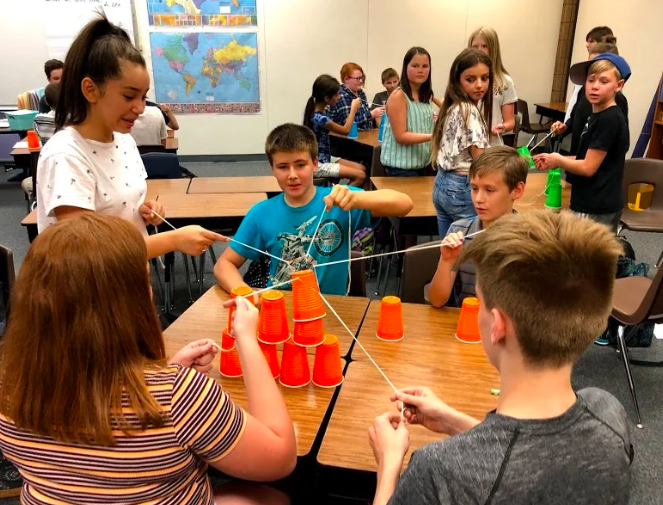 Adriana Santana, Maddox Greco, Steven Hernandez, and Ally Summers collaborating during Math Expansion


Evelyn Shughart practicing newly learned math skills