Charter Students Benefit from New Language Immersion Program
El Dorado County Office of Education Charter students are benefiting from a new Japanese language program that features unique learning and exchange opportunities with high school students in Japan, including live video sessions. The popular new program, which is offered at Charter Connections Academy and Charter University Prep, engages students with its innovative approach. Students practice their emerging skills in live, face-to-face meetings with Japanese students. The program is typical of both schools' approach to learning, which emphasizes developing skills and critical thinking through real-world use and application. Both programs utilize 21st Century learning platforms and strategies to help ensure students are fully prepared for college and career success.
The Charter students practice their emerging Japanese language abilities with students of Veda Nishi School in Nagano, Japan, who are also using the opportunity to expand their knowledge in English. "I really enjoyed meeting students from Japan!" expressed senior Jalen Bush. "I've learned a little about the students, and we aren't as different as I thought. I was super nervous about our first cultural exchange, but seeing them try just as hard to speak English, as we tried to speak Japanese, helped a lot. I realized they're just kids like we are."
Joe Reichmann, Charter's Japanese teacher notes, "Through this activity students are learning how to speak Japanese in a fun and exciting way. Not only is language being taught, but our students are able to experience a beautiful culture. It's good to see students from different parts of the world enjoy communicating.
During their first video, the Charter students began their conversation by introducing themselves and the community of El Dorado County. In a later session, Veda Nishi students quizzed Charter students on the Japanese names of sports, animals, and fruit. In return, Charter students taught their Japanese peers words in English.
Charter Connections Academy and Charter University Prep are committed to providing meaningful direction, academic support, and counseling to help ensure students successfully transition to their next phase in life. The programs use a college-like instructional model in which students attend classes two days a week and practice independently the rest of the week. More information about Charter Connections Academy and Charter University Prep can be found at the Charter Alternative Programs' website atcharter.edcoe.org or by calling (530) 622-7130.
Above: Senior Jalen Bush discusses common interests with a student in Nagano, Japan.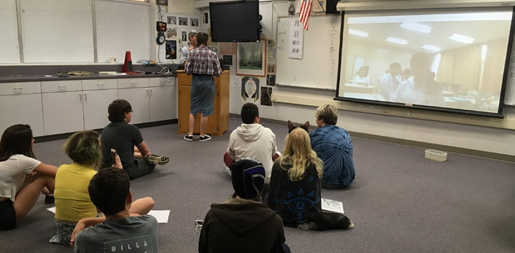 Above: Students wait their turn to practice identifying fruit and animals in Japanese.