CHSA craft faire tradition continues
On Tuesday, December 3rd, Charter Home Study Academy's (CHSA) multipurpose room was filled with eager customers traveling from booth to booth to purchase homemade creations from student business owners. CHSA's Craft Faire, where transitional kindergarten through eighth-grade students sell art, holiday decorations, hand-made toys, international cuisine, and more, has become an annual tradition for many in the Charter Alternative Programs community.
The event, now in its 21st year, celebrates the variety of unique artistry skills that students of CHSA have while fostering entrepreneurial proficiency.
This event is designed to allow students to experience entrepreneurialism by developing an idea for a product, creating a business plan, obtaining materials, marketing and selling their product." said school Principal Steve Bryant, "Our goal at CHSA is to create opportunities for each student to discover a deeper understanding of self and their relationship to the world around them."
In addition to learning how to run their business and making a little money, students also received prizes in categories such as Master Entrepreneurs, Best Marketing, Best Display and Most Innovative Products.
Winners
First place, Master Entrepreneur — Britton Chaloupka - Grade Eight
Second place, Master Entrepreneur — Evelyn Shugart - Grade Four
Third place, Master Entrepreneur — Devin Houk- Grade Four
Best Display — Riley Smith - Seventh Grade
Best Marketing — Jacob and Jarrod Berry - Grade Eight, Grade Five
Most Innovative Product — Kadence Gobble - Grade Eight
Best Slogan — Mabel Hinds "If you want treats for your table, come see Mabel" - Grade Three
Best Logo — Lilah Hinds - Grade Six
Best Business Card - Peyton and Taylor Smith - Grade Four, Grade First
The CHSA program, which is located in El Dorado, provides significant support and resources for families who choose to homeschool their children. Students have the option to attend classes in core content areas, or do their studies entirely at home, guided by parents and supported by credentialed teachers.
More information about the Charter Home Study Academy program can be found at chsa.edcoe.org or by calling (530) 622-6298.
Messers Mining Company conducting a sale

Evelyn Shugart displaying her hand made snowman lights

Devin Houk and his cat-fishing poles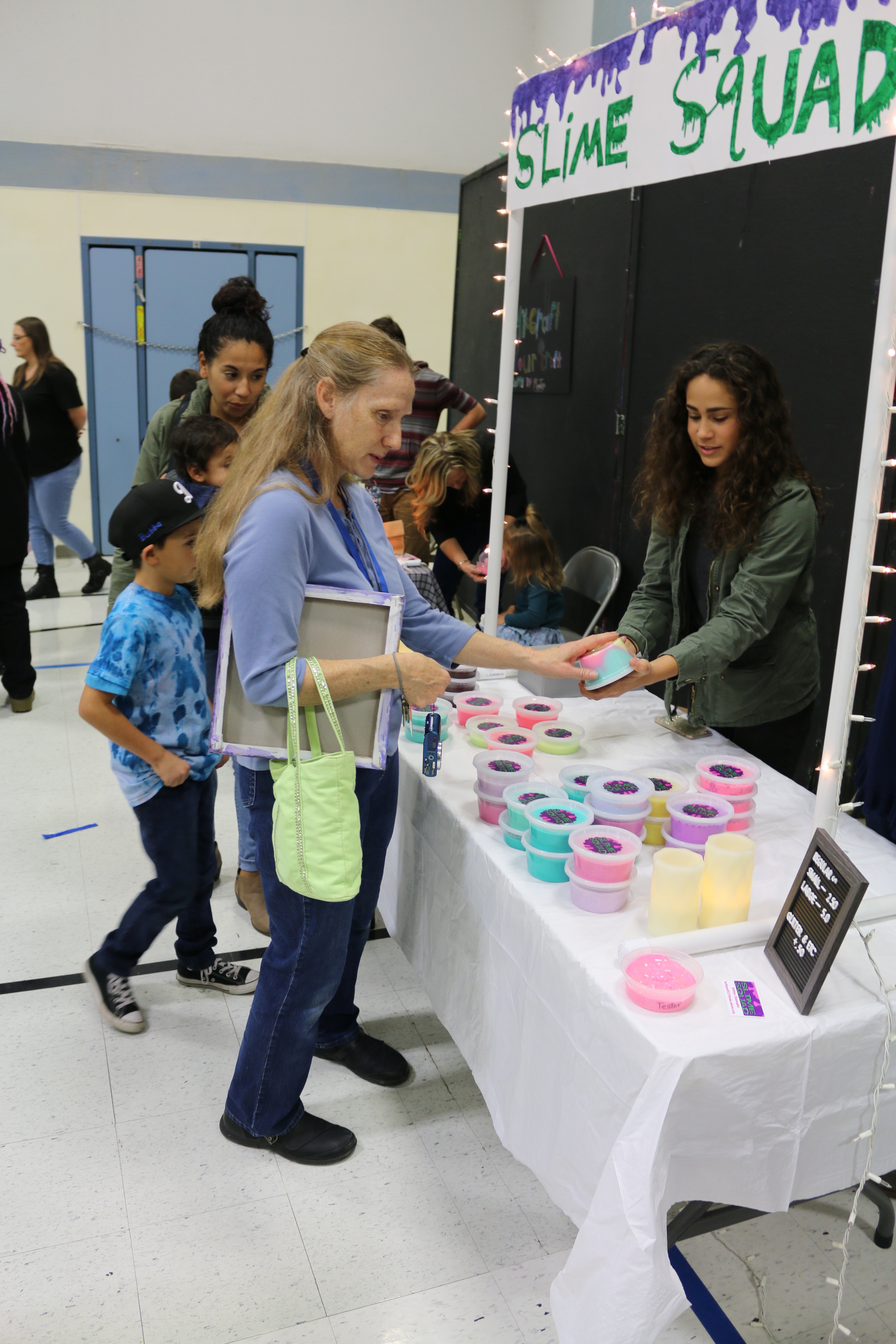 Britton Chaloupka, Master Entrepreneur winner, in her "Slime Squad" booth