The goal of the Youth Commission is to develop and express the opinions, ideas, and visions of the youth in the county. Students on the Commission participate as a youth government allowing an enriching leadership experience. The Commission helps youth fulfill goals that they have for their community. We are always looking for ways to help youth implement projects and ideas that will benefit the community.
Youth Commission's website offers resources and support for students.
Reach out. Connect. Embrace Wellness
Board of Supervisors Welcomes El Dorado County Youth Commission
In a continued effort to positively enhance our community and empower our future leaders, the El Dorado County Board of Supervisors (Board) partners with the El Dorado County Office of Education (EDCOE) to facilitate and support the El Dorado County Youth Commission.
Youth Commission members. Top row (left to right) Dane Sheridan, Carter Hill, Amanda Kendler, Fatima Vazquez Rios, Abegale Jones; Front Row (left to right) Edith Rivera, Grace Salvestrin, Anavi Deshmukh, Calyssa Glas
Each school year, students are appointed to the Youth Commission by the County Board of Supervisors to help develop and express the opinions, ideas, and vision of El Dorado County youth by working with local government and community decision-makers. Through the program, students gain leadership skills and work toward common goals as they partner with other youth organizations, assist with local community service activities, and discover ways to better communicate with youth about various opportunities available in El Dorado County.
It is an honor to collaborate with our school districts and County Board of Supervisors in support of developing young leaders," noted Dr. Ed Manansala, County Superintendent of Schools. "We see great potential and promise in this special group of students."
El Dorado County Youth Commission join the County Board of Supervisors during the annual Shadow Day.
In November, the Youth Commission participated in their annual Shadow Day, and commissioners accompanied the Board during one of their regularly scheduled meetings. They provided input on agenda items such as public comments, countywide housing and employment projections through 2040, funding approval for community outreach requests, and a presentation regarding an update to the proposed methodology process for the Regional Housing Needs Assessment.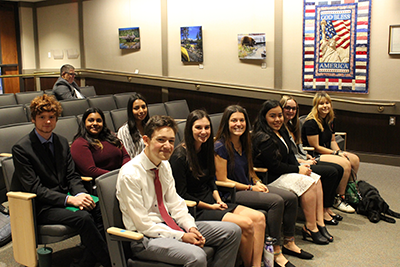 Youth Commission sitting at County Board of Supervisor's meeting.
"It was truly inspiring to work along-side these future leaders," stated Supervisor Brian Veerkamp, who serves as the Board's Liaison for the Youth Commission. "Shadow Day offers the commissioners first-hand exposure to the intricacies of our local leadership. I am proud of the Commissioners for sharing their insights surrounding the agenda items at this meeting."
"Participating in the Board of Supervisors meeting was fascinating," noted Carter Hill, Youth Commission Vice-Chair. "Understanding the balance between meeting the varying needs of each El Dorado County community and maintaining the overall respect for County constituents, while also being mindful of future impacts and budget restraints is not an easy undertaking. It was a privilege to participate in agenda item discussions with our County Leaders. As a Commission, we are grateful for this educational opportunity."
More information about the Youth Commission program can be found on their website: http://charter.edcoe.org/resources/edc-youth-commission
Commissioners Present Mental Health Resources for Youth to the Board of Supervisors
Mental Health Resources for Youth by El Dorado County Youth Commission
Youth Commission 2019-2020
Rik Murali, Co-Chair
Rik is a Junior at Oak Ridge High School. The thing he likes best about our community is the calm and quiet environment. He would like to see more motivational speakers meet with the Commission to address some of the challenges the youth face.
Edith Rivera, Co-Chair
Edith is a Senior at El Dorado High School this year. She believes the biggest issue facing our youth is mental health. With homework, relationships, sports, jobs, and other activities, teens start to feel like it is too much. She is here to advocate for those people, so they get what they need.
Carter Hill, Vice Chair
Carter is a Senior at Ponderosa High School and is a first year Commissioner. He sees the Youth Commission as an opportunity to help address struggles that other youth in the community may face. He enjoys reading and spending time in nature as often as possible.
Christian Selden, Media/PR Officer
Christian Selden is a Senior at Charter University Prep who is passionate about lowering his carbon footprint and helping the youth of El Dorado County. He's (mostly) vegan and enjoys writing. This year on Youth Commission, he's especially concerned that the youth's overreliance on technology and social media in their day-to-day lives is interfering with their ability to connect with others.
Grace Salvestrin, Community Affairs Officer
Grace is a Junior at Union Mine High School and feels honored to have the opportunity to be a voice for her peers and hopefully improve her community. She would like to provide more opportunities for youth and add awareness of what previous generations have done to strengthen El Dorado County.
Dane Sheridan, Government Affairs Officer
Dane is returning to the Youth Commission with the hope of continuing to focus on promoting wellness in El Dorado County Youth. He is a Junior at Charter University Prep and looks forward to working with the group again to make change in the community.
Anavi Deshmukh
Anavi is a freshman at Oak Ridge High School. This is her first year on the Youth Commission and she is excited to help make a positive difference for El Dorado County Youth. In her free time, she like to play the drums.
Calyssa Glas
Calyssa is a Junior at Ponderosa High School. This is her first year as a Commissioner. She likes the tranquility of her community and how everyone is courteous of one another. Calyssa also raises Guide Dogs for the Blind puppies in training.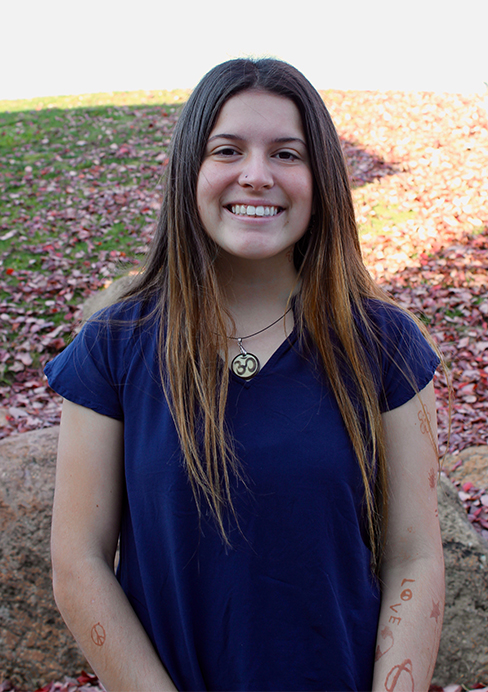 Abegale Jones
Abegale is a Junior at Union Mine High School. This is her first year as a Commissioner. She looks forward to learning more about local leadership. Abegale enjoys living in El Dorado County because community members rise up to support one another. She is also involved in Hands 4 Hope and enjoys community outreach.
Amanda Kendler
Amanda is a Sophomore at El Dorado Union High School. She enjoys swimming and is very excited to be serving as a Commissioner this year. Amanda's appreciates the close-knit community of El Dorado County; she loves that everyone is always willing to help each other out.
Fatima Vazquez Rios
Fatima is a Senior at Union Mine High School. She enjoys bringing out her artistic side by painting and digital art. In her first year as a Commissioner, she's looking forward to providing a voice for El Dorado County Youth.